A few days ago, I discovered a forgotten raisin challah deep in my freezer. I looked at it and thought that it could be really good for bread pudding because of the raisins. I don't usually make bread pudding at home. Not that I don't like it, but it is not one of these dishes that come to mind when I have leftover bread. We usually use the leftover challah (if we even have anything left) to make French toast or grilled cheese sandwiches.
This time, it was destined to become bread pudding. I looked up some recipes for general guidance, and then I looked in my fridge to see what I wanted to add. I found an orange that had been there forever and needed to be redeemed and a couple of apples that I thought would add some nice autumnal flavor. I also added some spices, to make it interesting. Eventually, I collected more ingredients than I actually ended up using (the butter in the pics never made it in the pudding). I guess my recipe can be considered a leftover dish since I used, in addition to the old challah, an orange that had seen better times, and 3 egg whites that were left over from eggs used for another dish. However you look at it, I think I winged something that came out pretty good, and I hope you like it, too.
Ingredients:
1 raisin challah bread, cubed
2 apples, peeled and shredded
1 orange, zested and juiced
½ cup sugar
½ tsp ground cinnamon
½ tsp ground nutmeg
¼ tsp ground clove
¼ tsb ground cardamom
3 egg whites
2 eggs
1 cup milk
1 cup heavy cream
1 tbs butter, for greasing
Preparation:
In a large bowl, combine the cubed challah, shredded apples, zest from the orange, sugar, and spices.
In a separate bowl, mix the eggs with the milk, heavy cream, and orange juice (including the pulp).
Pour the liquid mixture into the bowl with the dry ingredients and, using your hands, mix it all well but gently, to make sure the spices and the orange zest are spread evenly.
Generously grease a 13 x 9 ovenproof baking dish with butter, then pour the contents of the bowl into the baking dish, and spread evenly.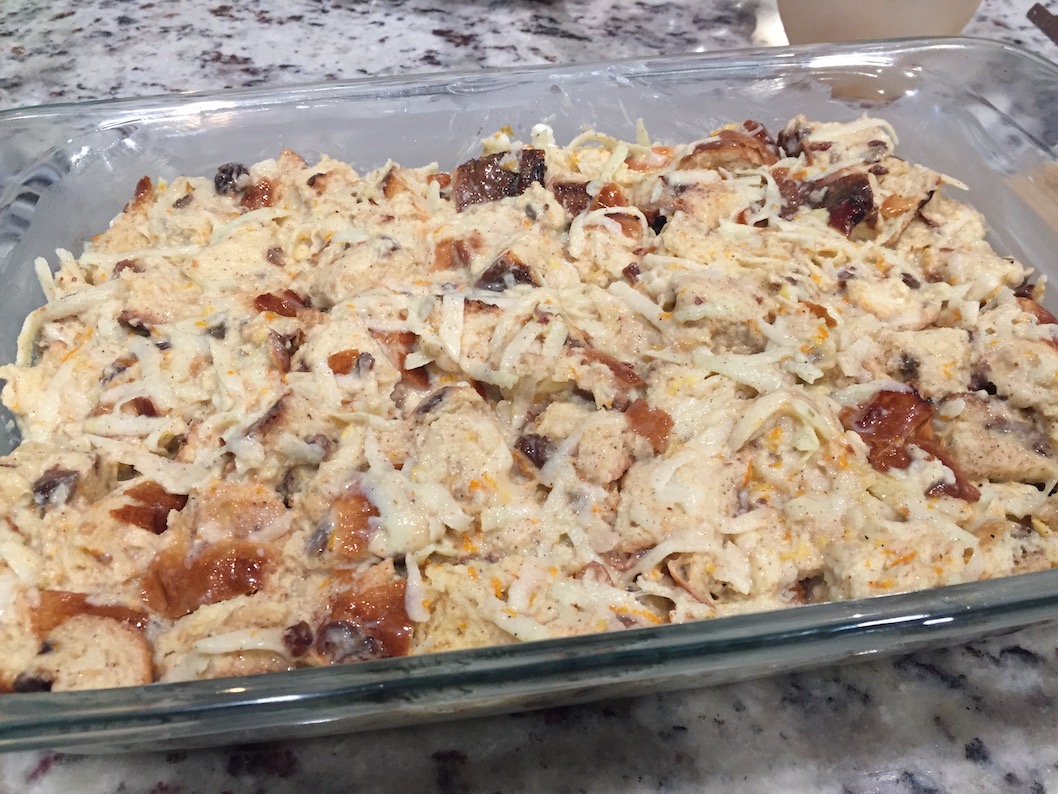 While the bread is soaking the liquids, turn on the oven to 350F.
When the oven is ready, put in the bread pudding and bake for 30 minutes.
Enjoy the smells that come out of the oven!!! And later on the flavors, too!
The pudding can be served warm or at room temperature.