An easy and fun appetizer for a festive meal, that can also serve as a main dish with some salad on the side. This year this appetizer will be part of our Rosh HaShanah table. Rosh HaShanah is the Jewish new year and usually we celebrate it with different edible blessings. One of the main blessings is for us to be the head and not the tail or in other words we are wishing to be leaders and lead by example. The food which symbolizes this blessing is the head of a cow or lamb (cheek meat) and in some communities it is the head of a fish. This year, though, as we turned vegan, we can't do either, so we decided to be creative and use a head of cabbage. Hence the following recipe. For more about Rosh HaShanah recipes check my Rosh HaShanah Blessings and Recipes.
Wishing a happy, healthy, and prosperous new year to all who celebrate!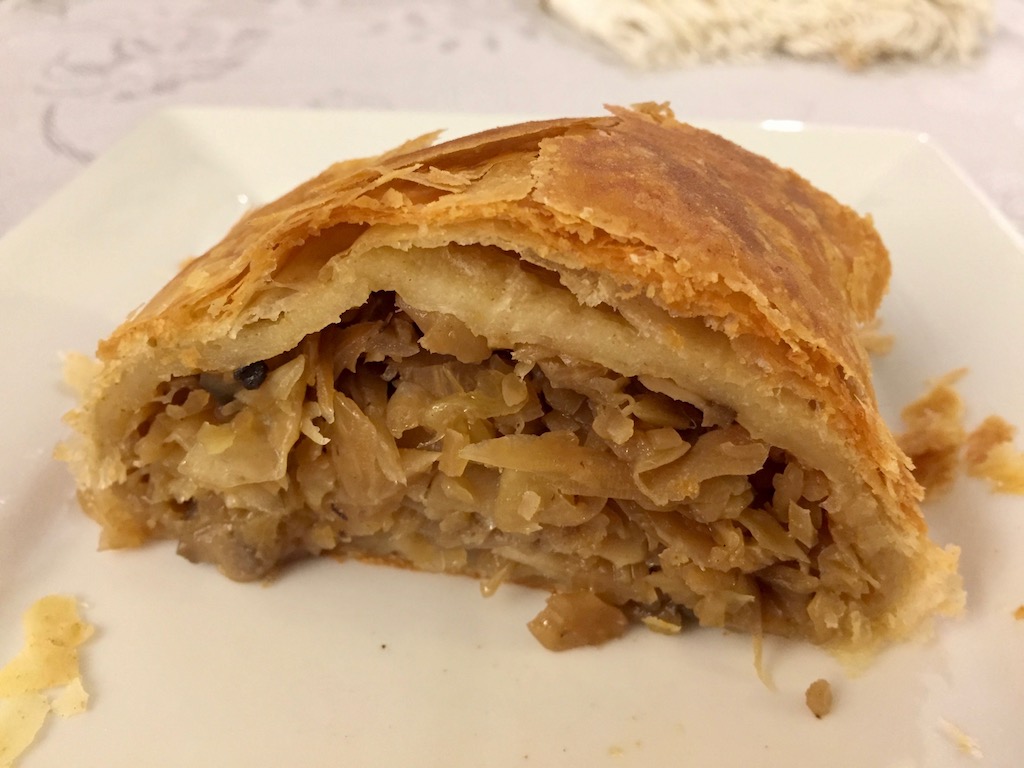 Cabbage Puff Pastry Roulade
Ingredients
1

large onion, thinly sliced

4

tbs 

oil

1/2

cabbage head, thinly shredded

12

mushrooms, sliced

1

tsp

mustard powder

1

tsp

paprika

1/4

tsp

cayenne pepper

Salt and pepper to taste

1

package

frozen Puff Pastry sheets (2 sheets)

Sesame/nigella seeds (optional)
Instructions
In a large saucepan heat the oil and sauté the onion until translucent. Add the cabbage and keep sautéing, while stirring occasionally, until cabbage is wilted and slightly seared.

Add the mushrooms and the spices and give the dish a good stir.

Reduce the heat to medium-low and cook for about 15-20 minutes, covered, until the cabbage and mushrooms are very soft, and all the liquid evaporated from the pot. If there are liquids left, remove the cover and raise the heat to let all liquid evaporate.

Remove from the heat and set aside.

Defrost the frozen puff pastry at room temperature for about 40 minutes. The dough should be defrosted but cold enough to handle, otherwise it's too hard to work with.

Place one of the pastry sheets on a work surface and roll it out to a rectangle. Place ½ of the chilled cabbage filling in the middle of the sheet lengthwise, to create a cylinder. Fold the short side edges of the dough on top of the filling, then fold the top and the bottom edges, one on top of the other, to close the roulade.

Place the roulade, sim down, on a baking sheet covered with parchment paper and repeat the process with remaining ingredients.

You may brush the top of the roulades with egg wash and sprinkle sesame or nigella seeds on top.

Bake in the preheated oven until the roulades turn golden brown. Remove from the oven and chill for a few minutes before serving.