In Israel, this salsa-like salad is known as Turkish salad and is sold in every supermarket by this name. I'm not sure that this salad actually originated in Turkey, since I haven't found any supporting evidence for it when looking for recipes. However, I don't know what else to call it, so I'll just go with the name I know.
We make many different salads at home on a regular basis but Turkish salad wasn't one of them. For no good reason, really. But we did eat it every time we dined in Middle Eastern grill restaurants in Israel. And my kids loved it. So I decided to look for the recipe and make it at home. As I'm sure you know, as with any recipe, there are so many different versions and I wasn't sure which one to try. And then I met this Israeli woman who owns a bakery/grocery store in Boca Raton, where I buy really good pita bread. She also makes her own salads, one of them was this Turkish salad. When I asked her how she made it, she gave me the recipe without hesitation, which I thought was very nice of her. And this is the recipe I use. It tasted pretty good to us, so we stuck with it. This salad is a great accompaniment to main dishes or on sandwiches. We especially enjoy it with good pita bread or a fresh homemade challah. Hope you like it, too.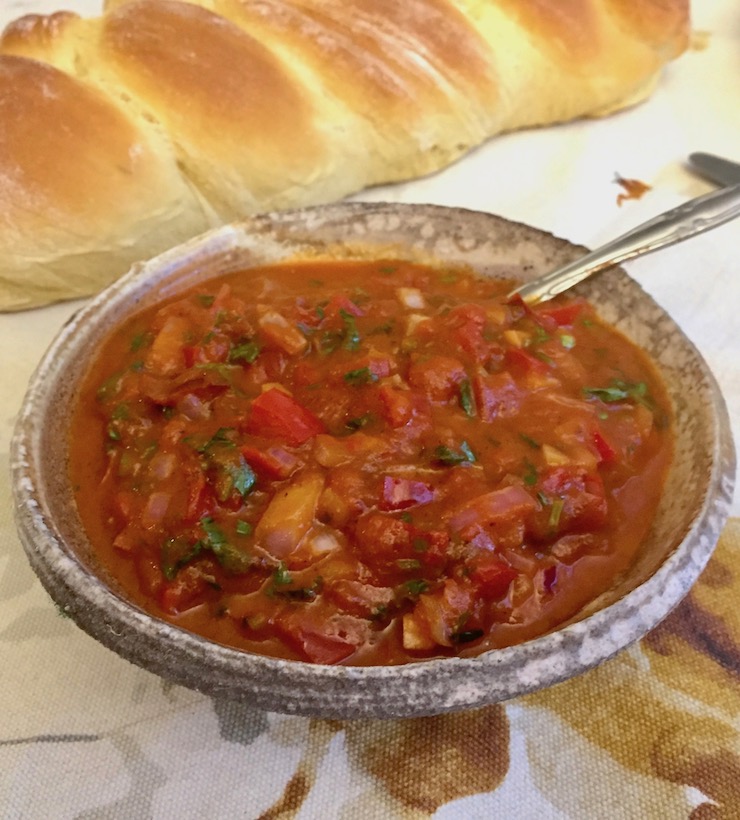 Turkish Salad
Ingredients
4

tbsp

oil

3

red bell peppers,

diced

2

cloves garlic,

minced

2

tbsp

tomato paste

1

cup

water

1

tsp

cumin

1/2

tsp

sweet paprika

1/2

tsp

salt

1/2

tsp

sugar

1

medium onion,

diced

1

cup

cilantro,

thinly chopped

1/2

cup

parsley,

thinly chopped
Instructions
In a medium saucepan, heat the oil and sauté the peppers for 3 minutes on medium high heat.

Add the garlic and keep sautéing for 2 more minutes.

Add the tomato paste, mix it in well and cook for 1 minute contently stirring it so that it doesn't burn.

Add the water and the spices, lower the heat to medium and cook for 10 minutes.

Add the onion, cook for 2 more minute, then remove the pot from the heat.

Add the cilantro and parsley and mix well.