Warning – these crackers are addictive!!!
They are excellent as hors d'oeuvres and go great with drinks. I like to make them for large gatherings, because they are very easy to make so you can make a nice amount of them, and everyone is super impressed. Usually, though I need to make a double batch because the wonderful cheesy aroma gets my hubby and kids out of their rooms and brings them to the kitchen. Everyone wants to have "just a bite" as soon as the crackers come out of the oven, and before we know it a whole baking tray is gone… People will stalk you for the recipe, so be prepared to hand out copies, or better yet, refer people to my blog 🙂 .
The recipe below is a base upon which you can build. And it's really fun because each time you can make it slightly different to get a different flavor. You may change the parmesan cheese with kashkaval, cheddar, or any other sharp flavored cheese. Or mix a bunch of cheeses together. You can also incorporate any seeds or spices that you like in or around the dough, such as poppy, mustard, nigella, sesame, paprika, smoked paprika, black pepper, cumin… you name it.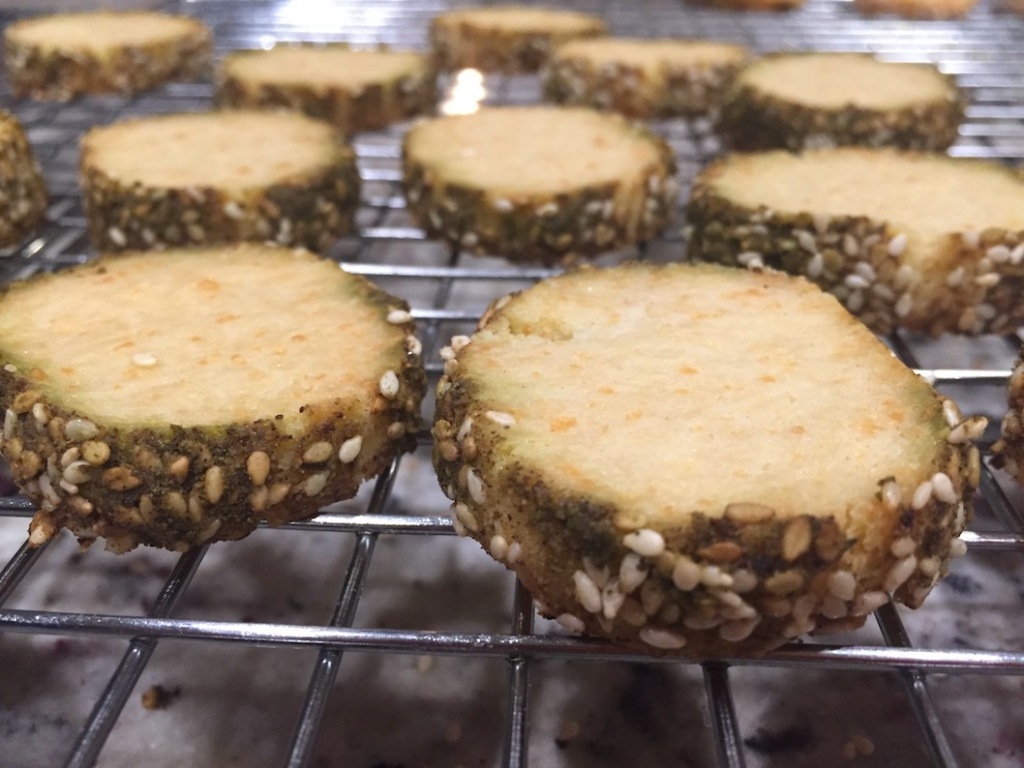 Savory Parmesan Crackers
Ingredients
2

cups

all-purpose flour

1/2

tsp

salt

8

oz

soft butter

6

oz

parmesan cheese,

shredded

1

egg,

beaten

1

egg beaten with a little water

(egg wash)
Instructions
Place the flour, salt, butter, cheese, and one beaten egg in a mixer bowl equipped with the guitar attachment. Mix the ingredients to form a cohesive dough.

Divide the dough into three pieces and roll each piece into a 2 inch thick log. Wrap in plastic wrap and place in the freezer for 30 minutes, or until dough in frozen.

In a small tray, place your topping of choice.

Remove the dough logs from the freezer. Brush each log with the egg wash, then roll it in the topping, making sure it is fully covered.

Slice into ½ inch slices and place on a baking sheet lined with parchment paper.

Bake in a 360F preheated oven for about 20-25 minutes, until the cookies are slightly golden.