This salad was born as I was making it. As I was roasting the cauliflower with the idea of making some kind of salad, I was exploring the options in my head. I wanted to add texture and flavors that would complement a Moroccan lamb dish we made for Passover dinner. I wanted the salad to be refreshing and not too packed with flavors as the lamb was already very flavorful. And I had to use what I already had in the fridge. The result is a refreshing, delicious salad that can accompany any meat, chicken, or fish dish, as the flavor is mild and lends itself to a wide variety of flavors.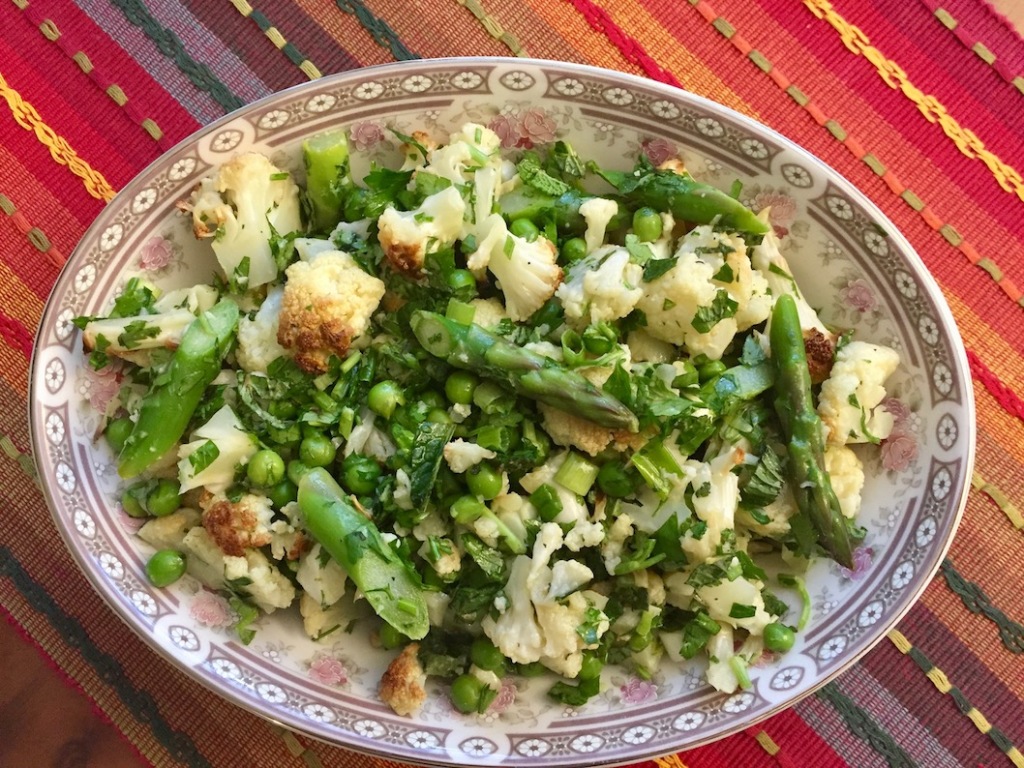 Cauliflower, Asparagus, Pea, and Herb Salad
Ingredients
1

medium cauliflower head

1

cup

frozen green peas

7

asparagus spears

1/2

cup

green onion,

chopped

1/2

cup

parsley leaves,

thinly chopped

1/2

cup

mint leaves,

thinly chopped

1/2

cup

cilantro leaves,

thinly chopped
Vinaigrette
1/2

cup

olive oil

3

tbsp

red wine vinegar

1

tsp

Dijon mustard

1/4

tsp

salt1/4

tsp

1/4

tsp

black pepper
Instructions
Cut the cauliflower into small florets, and place on a baking sheet. Sprinkle with some salt and drizzle a little oil on top. Roast in the preheated oven until cauliflower has soften, about 20 minutes. Remove from the oven and let cool.

Remove 2 inch of the bottom of the asparagus and slice the spears on an angle into 2 inch pieces.

In a medium saucepan, place the asparagus and the peas. Fill the pot with water just to cover the veggies and bring to a boil on high heat. Cook for 2 more minutes, then remove from the heat.

Transfer the asparagus and peas to a bowl filled with ice water, to stop the cooking process and retain the green color of the veggies. Remove the veggies from the bowl once cold.

In a large bowl, combine the roasted cauliflower florets, peas, asparagus, and the chopped herbs.

In a small jar combine the ingredients for the vinaigrette. Closed the jar with the lid and shake well until the dressing emulsifies.

Pour the dressing over the salad and mix it in well.