One of the most precious memories of my childhood is Shabbat at my grandparents' home, in Tel Aviv. After spending the afternoon together, preparing for Shabbat, grandma would light the Shabbat candles and we would prepare the table for Friday night dinner. Everything was very simple and modest. The dishes were simple dishes, and the table wasn't dressed. But it felt very much like Shabbat. The Challah was covered with a special cover, and the Kiddush wine and cup were ready for grandpa to recite the blessing. Dinner was very modest too and included Yemenite chicken or beef soup that was meant to last for both Friday night dinner and Shabbat lunch, white rice, Hilbah (fenugreek), Zhoug and Challah.
For years, my mother used to make her own version of the Yemenite chicken soup for lunch on Fridays, a reminiscent from her parents' home. Up until today, Yemenite soup is one of my favorite Friday night dinners, though we don't make it often enough.
This recipe, which calls for chicken, is my grandmother's version on this yummy soup. Or more accurately, my grandpa's. After my grandparents got married, grandpa realized that grandma, who was not Yemenite, did not know how to cook Yemenite food, so he taught her what he knew. Grandpa made the soup sometimes with beef and sometimes with chicken. the special spice in this soup is Hawaij, a Yemeni spice mix for soup.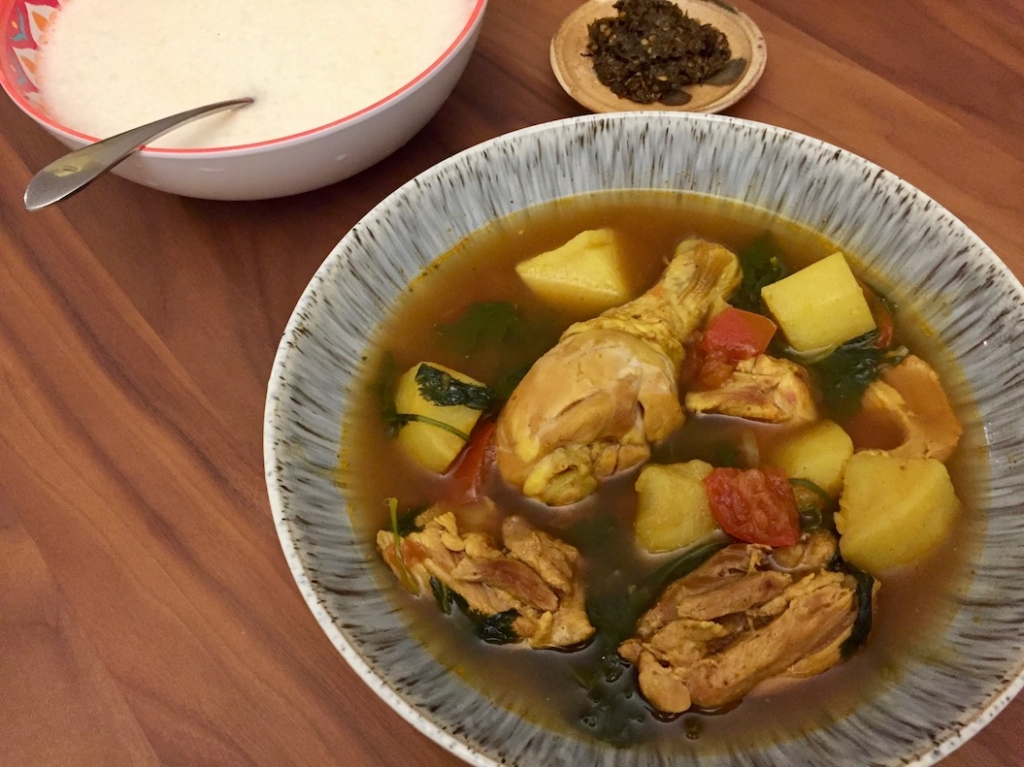 Yemenite Chicken Soup
Ingredients
4

chicken thighs,

skin on

6

chicken drumsticks,

skin on

4

medium potatoes,

peeled and sliced into 1 inch slices

2

medium tomatoes,

diced

1

medium onion,

quartered

1

tbsp

tomato paste

2

heaping tbsp

hawaij spice mix for soup

(can be also found online)

1

tbsp

chicken soup powder

small bunch cilantro,

rinsed and coarsely chopped
Instructions
In a large pot, place the chicken and cover in water. Bring to a boil. Discard of the water and rinse the chicken lightly to rid of the blood and protein foam which result from the boiling.

Put the chicken back in the pot, cover with water again and bring to a boil.

Lower the heat to medium and add the onion, potatoes, tomatoes, tomato paste, and the spices. Cook covered for about an hour. Add the cilantro at the end and turn off the heat.

If you rather make the soup with beef, use 2 lb of beef shank meat cut into large pieces.

If you prefer the chicken version, you can use any part of the chicken, except for the breast.