I grew up with these pickles. My grandma made them and so did my mother. With the years I've tried other versions of pickled cucumbers, but always came back to this recipe.
A crucial thing to know before attempting to pickle cucumbers is that you MUST have the right kind of cucumbers. Otherwise the cukes become soft and mushy when pickled. You want them to remain crunchy. Which are the right cucumbers? In the U.S. the most used pickling cucumbers are the Pickalot and National Pickling types. They are short and have a bumpy skin, and they can be found in many supermarkets and markets.  
I like to use the Persian/ Lebanese cucumbers. These are actually cucumbers that where developed in Kibbutz Beit Alpha in Israel in the 1950s and made a name all over the Middle East. They are small in size, with a firm texture and their skin is smooth and thin. They are sweeter in flavor. I always called them Israeli cucumbers because these are the only cucumbers I knew when living in Israel. Nowadays they are making a name in the U.S. and I see them more and more in different supermarkets. These cucumbers are great for pickling, but they are also great eaten raw. At home, we use only this kind for all our uses – salads, tzatziki, pickles, or just eating them as a snack with some salt sprinkled on them.
Once you've got your hands on the right cucumbers, it's time to pickle…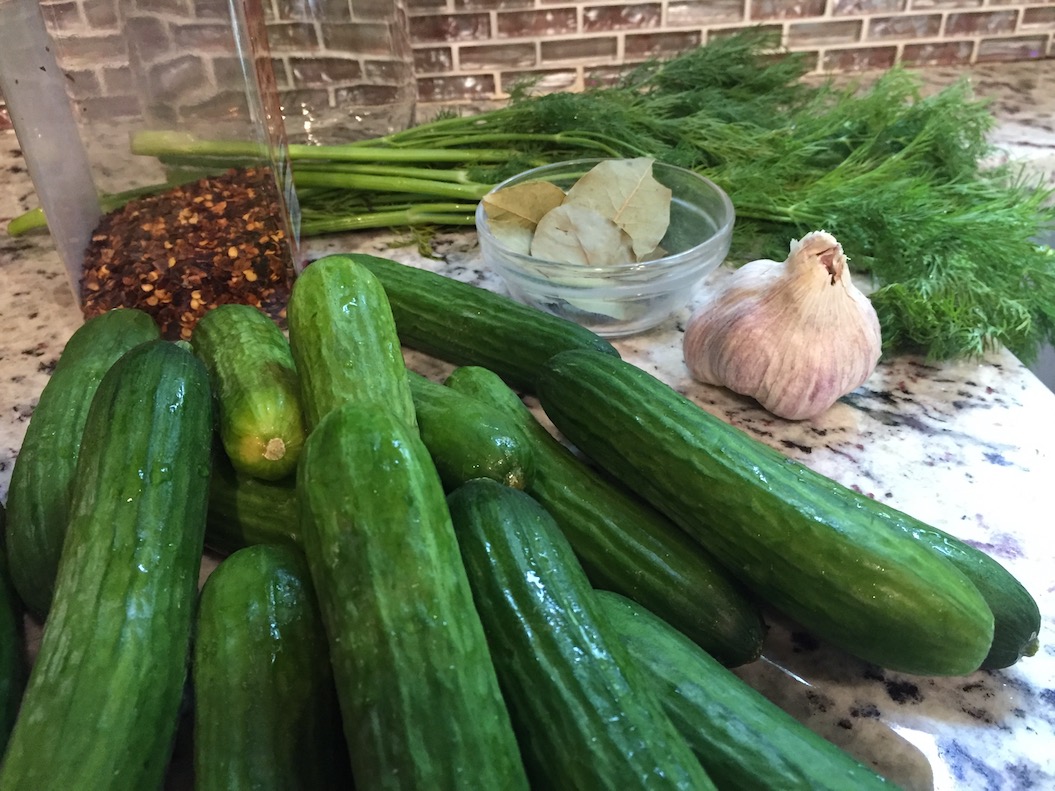 Best Dill Pickles
Ingredients
2

lb

small Israeli cucumbers

rinsed

10

sprigs dill,

leafy parts only

6

large garlic cloves,

peeled and smashed

6

bay leaves

1/2

tsp

red pepper flakes

(optional)

3

cups

warm water

1/2

cup

white vinegar

4

heaping tbsp

salt
Instructions
In a small pot, combine water, vinegar and salt , and mix until salt is dissolved.

Boil water in a large pot. When water is boiling, submerge the open jar and sterilize it for one minute. Remove the jar from the water using tongs, pour all the water out and leave to cool.

Place 5 sprigs of dill, 3 bay leaves, and 3 smashed garlic cloves on the bottom of the jar.

Insert the cucumbers and stand them tightly, one next to the other. If you have room on top insert more cucumbers in any way that works. I sometimes cut the cucumbers in half to fit them in.

When the jar is almost full (leave space of about 1 inch), top it with the rest of the dill, smashed garlic, and bay leaves, and sprinkle the pepper flakes.

Pour the brine into the jar to cover all cucumbers.

Tightly close the jar and let sit in room temperature, preferably in the sun.
The pickles will be ready to eat after 3 days. You can keep the jar refrigerated or at room temperature, but not in the sun.
Only use a clean, unused utensil to remove pickles out of the jar, and avoid touching any of the contents with your hands, to avoid spoilage.