My husband and two boys used to be the carnivores in our house, and if a main dish didn't include meat, they were very dissatisfied. But not anymore. Not after having this dish for dinner. In fact, they enjoyed it so much that now I can introduce more meatless dishes and they are totally fine with that and a new era started in our home – we are all vegan now. Of course, this dish is not what made us change our eating habits but it was a nice trigger.
The flavor of the mushrooms is very rich and full of umami. Do not skimp on the baby bella or the dried mushrooms. They are responsible for the umami flavor.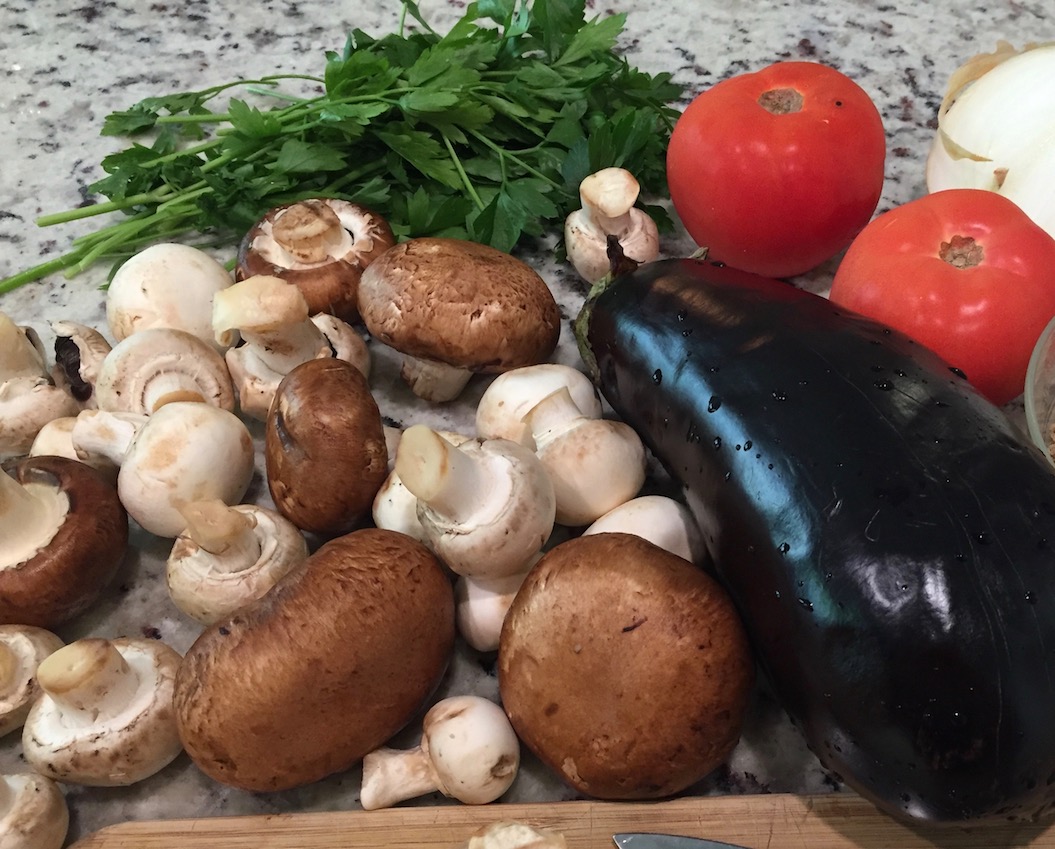 Eggplant Rollatini with Mushrooms
Ingredients
4

large eggplants

oil spray

1/4

cup

vegetable oil

1

large onion,

diced

20

oz

mixed mushrooms

(portabella, baby bella, button)

1

oz

dried porcini or dried mixed mushrooms

1

cup

parsley,

chopped

1

tsp

Aleppo pepper

1/2

tsp

garlic powder

salt
Sauce
2

tbs

oil

1

medium onion,

diced

2

medium tomatoes

2

tbsp

tomato paste

1

cup

water

1/2

tsp

garlic powder

Salt and pepper to taste
Instructions
Slice the eggplants lengthwise, into ½ thick slices. Generously spray a baking sheet with oil and arrange the eggplant slices in one layer. Spray the eggplants with the oil. You will probably need 2-3 baking sheets to accommodate all the eggplant.

Place in the preheated oven and bake until eggplants turn golden. Remove from the oven and chill. Turn oven off.

In the meantime, heat ¼ cup oil in a large pot and sauté the onion.

Chop the fresh mushrooms in a food processor until they resemble ground meat in texture.

Place the dried mushrooms in a coffee grinder and grind to a powder.

Once the onion is golden, add the ground mushrooms to the pot and sauté on high heat for 5 minutes stirring it occasionally.

Add the garlic powder, Aleppo pepper and salt and sauté for 1 more minute.

Turn off the heat, add the chopped parsley and mix well. Chill.

Heat 2 tbsp oil in a small pot and saute the onions for 3 minutes.

Place the tomatoes in a food processor and puree. Add the tomatoes to the sautéed onion and saute for 2 more minutes.

Add the tomato paste, water, and spices and stir it all in. Cook on medium heat for 5 minutes. Remove from the heat.
Putting it all together
Preheat the oven to 375F.

Place 1 tbs of the mushroom filling on one end of the eggplant and roll up tightly.

Place the eggplant rolls in a baking dish, seam side down, one next to the other.

When baking dish is full, top the eggplant with half the amount of the tomato sauce, and bake in the preheated oven for 25 minutes.

Serve hot or at room temperature with some good bread.