One of the dishes I remember fondly from my childhood is what we called at home shefteh. Shefteh in Persian, like kofta or kofteh in Indian, Arabic, Turkish, and Greek means 'meat balls'
I always thought shefteh was another Persian dish that my mother learned to cook from my father's side of the family, but I don't remember ever seeing it anywhere else but in our home. I just learned this morning when talking to my mother, that this dish is actually her own creation.
She remembers that my Persian grandmother used to make a dish called shefteh which consisted of meatballs and potatoes in some yellow turmeric sauce. My mother, who didn't want the potatoes, created her own version of the dish which actually turned into a soup.
It consists of meatballs in tomato broth, with carrot, zucchini, and herbs. The main spice in the soup is hawaij, a Yemenite spice mix for soups and stews that can be found in kosher and Middle Eastern stores or could be easily made at home.
I remember my mother making shefteh every once in a while, and for me it was always a treat of the comfort food kind. In fact, I took so much liking to this dish that after I got married shefteh became the dish I've made every year for the meal that precedes the Yom Kippur fast.
And here I am again, right before Yom Kippur, making that wonderful dish that I always wonder why I forget about all year round. My shefteh though, never comes out as good as my mother's. So, I feel very fortunate this year to have my mother over from Israel, so she can cook the shefteh and work her magic on it. I'm sure there are some dishes out there that may resemble this dish in some ways, but this shefteh is apparently unique to our family, which makes me even more eager to share it with the world.
Ingredients:
For the soup:
3 tbs oil
1 onion, diced
1 ½ heaping tbs tomato paste
1 ½ heaping tbs hawaij
3 heaping tbs chicken soup powder
8 cups water
3 medium zucchinis, cut into 1inch cubes
3 large carrots, cut into 1inch cubes
4 stalks celery, sliced
1 cup parsley leaves, coarsely chopped
1 cup cilantro leaves, coarsely chopped
Salt and pepper to taste
For the meatballs:
1lb lean ground beef
1 tbs salt
½ tsp black pepper
½ cup plain breadcrumbs
1 onion, diced
½ cup parsley and cilantro leaves, chopped
Preparation:
Heat the oil in a large pot and brown the onion on medium high heat. Add the tomato paste and the hawaij and stir well for 30 seconds to enhance the flavors but be careful not to let it burn.
Add the water and the chicken soup powder, stir well.
Add the zucchini, carrot, and celery and bring the soup and bring to a boil. Lower the heat to medium and cook for 15 minutes.
In the meantime, in a medium sized bowl, mix the meat with salt, pepper, breadcrumbs, onion and leaves. Form oval or round meatballs of about 2-inch-long and add to the soup.
Add the cilantro and parsley. Adjust the salt and pepper and cook for 30 more minutes.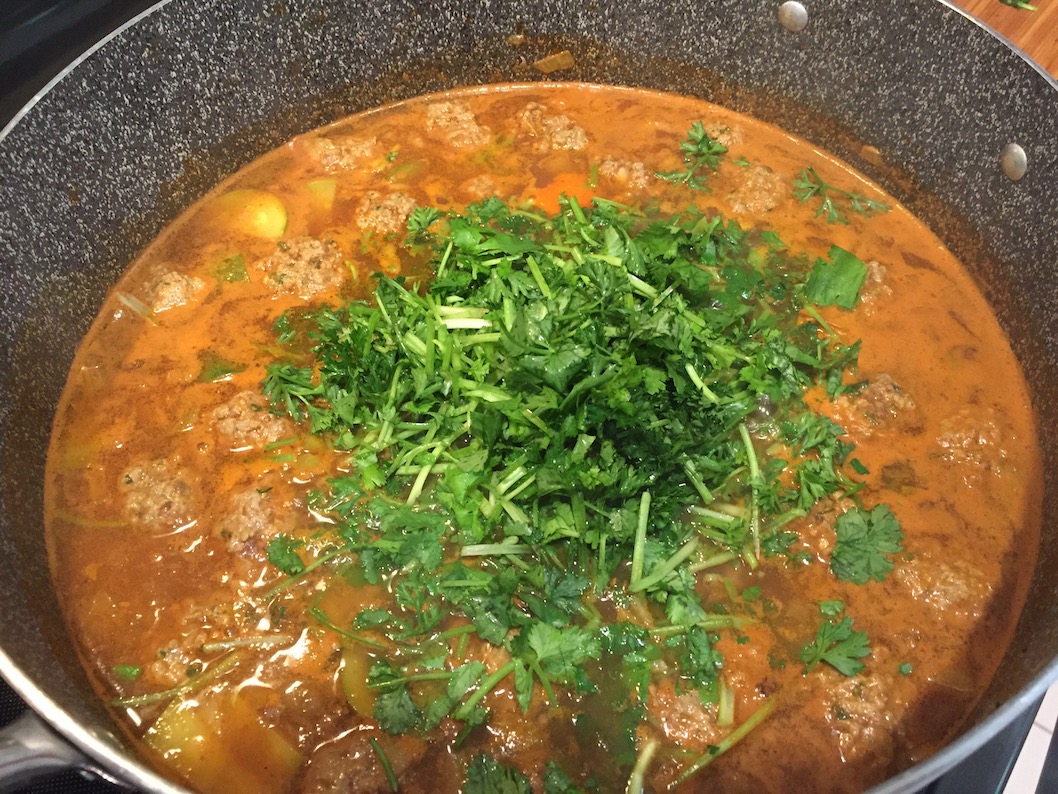 The shefteh can be served as a soup on its own or served over rice or couscous.