If you don't abstain from grains during Passover, you do not really have any challenge with food. You can eat almost everything, except for bread, baked goods, and pasta. And actually, today, you can even find pasta that is kosher for Passover.
All this introduction is actually to explain why I chose to post two cake recipes (one will be posted next week) as my Passover posts, instead of a main dish. It is much harder to find gourmet desserts that are kosher for Passover than first or main courses. So now your problem is solved.
In this post, you'll have the pleasure of being introduced to one of my gluten free creations. What's so pleasurable about gluten free, you may ask. Well, if I didn't tell you it's gluten free, you would never know. This Orange Coconut cake is delicious and of the best quality by any standard (listen to me, the proud mommy…). The cake was created for my gluten free bakery and was (and still is) one of my favorites.
It happens to be perfect for Passover as it is gluten free, and it is also dairy free, so you can serve it at the Seder's table.
For those of you who are not Jewish, please disregard the whole Passover thing and get straight to the bottom line – try this delicious cake. You won't be sorry. Plus, the citrusy flavors combined with coconut are very suitable for spring and Easter.
Enjoy!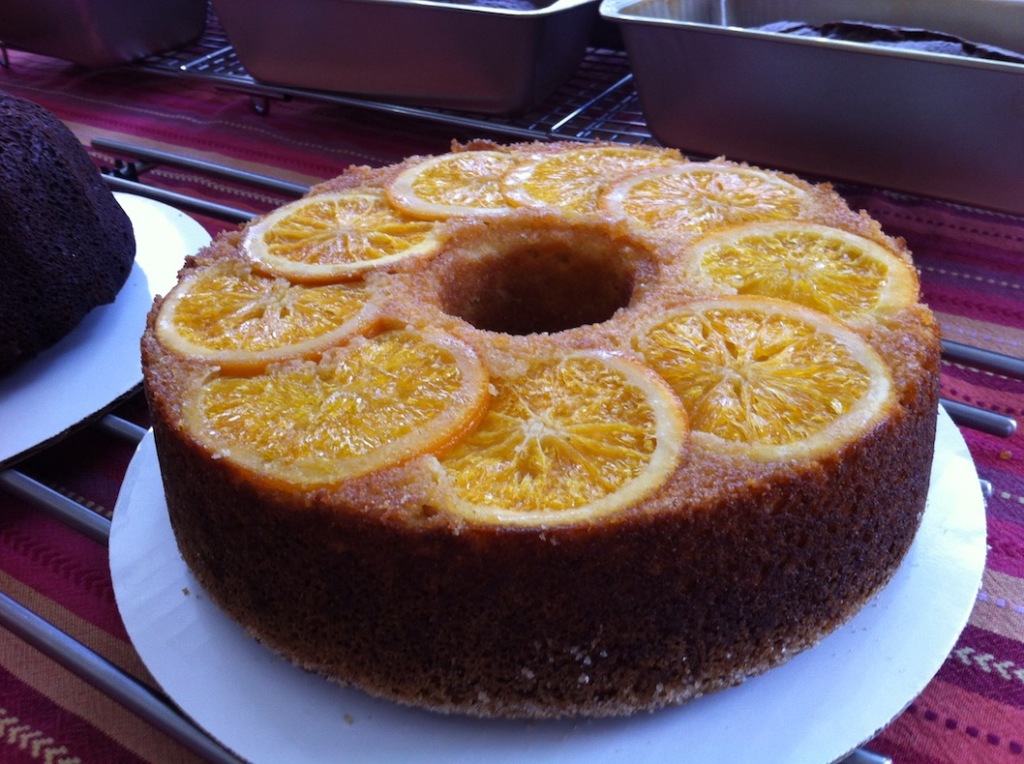 Orange Coconut Cake
Ingredients
4

eggs

1 ½ cups

(300g)

sugar

½ cup

(120g)

oil

1

(250g)

large naval orange

1 cup +1 tbsp

(100g)

sorghum flour

1 cup

(100g)

almond flour

1 ½ cups

(100g)

unsweetened coconut flakes

¾ cup

(50g)

cornstarch

1

tbsp

baking powder

⅜

tsp

xanthan gum

½

tsp

salt
Glazed orange slices
1

cup

water

1/2

cup

sugar

2

naval oranges,

unpeeled
Instructions
In a saucepan combine the water and ½ cup sugar and cook while stirring over medium heat, until the sugar is dissolved. Turn the heat up and bring the water to a boil. Cook for about 10 minutes, to create thick syrup. Reduce heat to low.

Slice 2 oranges into very thin slices crosswise, and add them to the saucepan, to cook in the syrup for about 15 minutes. When slices are soft, shiny, and nicely glazed with the syrup, remove them, using a slotted spoon, and place them gently on a tray.

Cut the third orange in half, discard of the seeds, and mash in a food processor (including the peel) to get a smooth puree.

Preheat an oven to 350F. Spray a baking pan with oil, then sprinkle sugar to coat the bottom and sides of the pan. Tap the pan to evenly spread the sugar and shake out leftover sugar.

In a mixer, beat the eggs with oil and sugar for about 5 minutes, until light and fluffy. Add the pureed orange, and eventually the flours.

In the baking pan arrange the orange slices overlapping each other.

Pour the batter on top and bake for about 40-45 minutes. Insert a toothpick into the center of the cake. Cake is ready when the toothpick comes out clean, with just a few tiny crumbs on it.