Another dish from my childhood, Tas Kabab, is a wonderful Persian stew that I forgot about as I grew up and went about my life. My mother used to make it a lot and we loved it. I'm not sure if she learned it from my grandmother, but I don't remember grandma making it in this version. It could very well be my mother's interpretation. There are various recipes out there for Tas Kabab, with at least one that I would like to try and make one day, but I've decided to start with Mom's recipe as it brings good memories. I made it last week for my family and the feedback was so great that I'm making it again today. And it was very easy to make, too. So, I guess we are adding a new dish to our home cooking repertoire.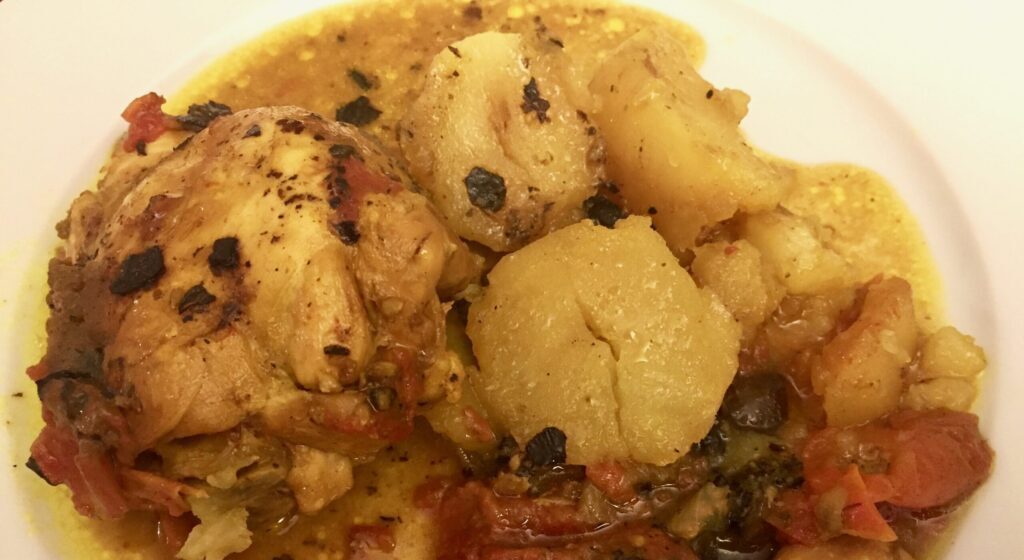 Tas Kabab
Ingredients
4

tbsp

oil

2

large onions,

peeled

4

large potatoes,

peeled

8

chicken thighs,

bone in and skinless

5

medium tomatoes

2

Omani limes

(found in Middle Eastern stores)

3

tsp

turmeric

Salt and pepper to taste
Instructions
Slice the onions, the potatoes and the tomatoes and place each one of them in a separate dish.

Heat the oil in a large pot. Arrange some of the onions at the bottom of the pot in one layer. Arrange a layer of the potatoes on top of the onion. Try to use as much of the potatoes as you can.

Place the Omani limes in a small Ziploc bag. Close the bag and smash the limes until coarsely smashed. Sprinkle half the amount on the potatoes in the pot.

Sprinkle the potatoes with 1 tsp turmeric, some salt and some black pepper.

Place the chicken thighs in a large bowl. Sprinkle 2 tsp turmeric, salt and pepper and rub it in well.

Arrange the thighs as the next layer in the pot.

Top with the rest of the onions, the sliced tomatoes and the rest of Omani lime.

Cover the pot, lower the heat to medium low and cook for 45 minutes. Then turn the chicken upside down, cover the pot and cook for 45 more minutes.

Serve with some good bread to dip in the sauce and enjoy.