My daughter doesn't like vegetables. She's been fighting it for years. But for someone who really wants to be vegan and healthy, she has to learn to eat her veggies somehow. Last week, being home from college, she decided to experiment a little in the kitchen. She found one sweet potato and decided to combine it with Indian flavors that we all love so much. When she let us try the end result, we were all blown away. It came out DELICIOUS!! So Indian tasting on one hand, and so original on the other. She actually invented a dish, and a really good one, too. I'm so proud of her! We made it again last night, this time with measurements, so I can post the recipe for all of you to enjoy.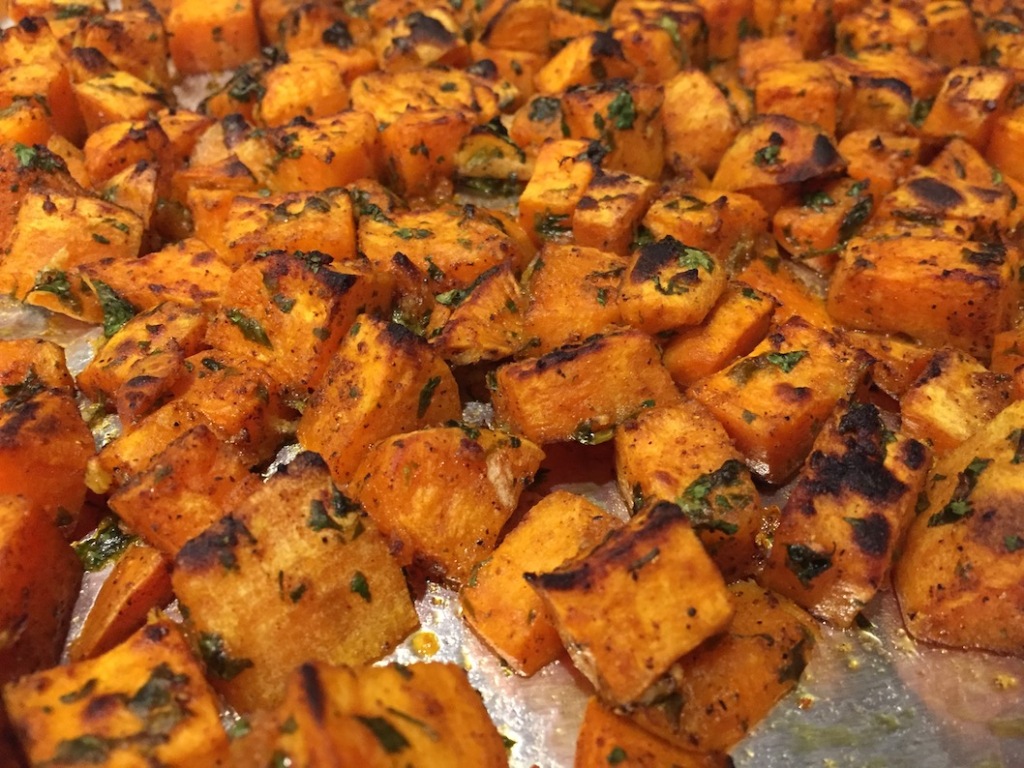 Sweet Potato in Curry and Cinnamon
Ingredients
3

medium sweet potatoes,

peeled and diced

3

tbsp

oil

1 ½

tsp

ground cinnamon

2

tsp

curry powder

Salt and pepper to taste
Dressing
1

cup

cilantro leaves,

chopped

4

cloves garlic,

minced

3

tbsp

oil

juice and zest from a large lime
Instructions
In a large bowl, mix the sweet potatoes with the spices. Line a baking sheet with tin foil, and spread the sweet potatoes on top, in one layer.

Roast the sweet potatoes until they are soft, about 15 minutes.

In the meantime, in a large bowl, mix the dressing ingredients.

Remove the sweet potatoes from the oven and toss them in the bowl with the dressing. Coat all pieces with the dressing but be careful not to mash the sweet potato.

Return to the baking sheet, turn the oven to hi broil and broil for a few minutes, until the sweet potatoes are roasted and crispy.

Remove from the oven and try not to finish everything while you wait for it to cool off.