Recently, thanks to my daughter, I got hooked on The Great British Bake-Off show, on TV. I'm not much of a TV person and I don't usually have the patience for all the drama around cooking competitions, but this show is different. I consider myself a pretty good baker, yet I learn so much about baking from this show. The show covers all the classic baked goods, whether it's breads, pastries, quiches and pies, cakes, or other baked desserts. There are tips and techniques for baking that the judges actually go over and explain, something I haven't seen in other shows, and to me, this is the added value of the show. It is both entertaining and educational, without all the drama that you find in American cooking competition shows.
Anyway, one of the crusts I was kind of introduced to in the show was hot-water crust. This crust is used for savory dishes like pies and empanadas. With this crust, instead of cutting cold fat into flour and then adding cold water, boiling water is whisked into fat (usually lard) until it forms an emulsion. This lard mixture is then added to flour. The result is an extremely pliable dough that's easy to work with since it doesn't crack or tear. I've never worked with lard or shortening, but I did bake with margarine ages ago, before it turned out that it was very bad for our health. Here, I chose to use shortening for religious reasons, although I'm sure that lard would be a tastier and healthier choice. The filling is something my daughter, who also got inspired by the show, came up with. The result was delicious.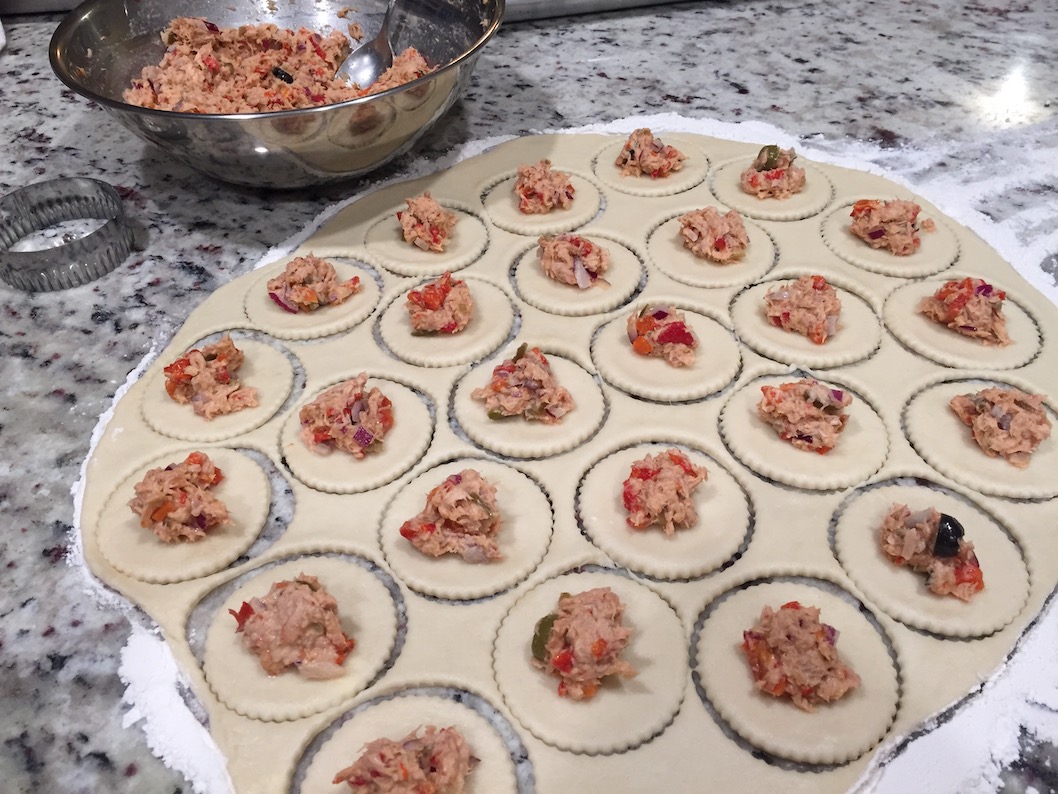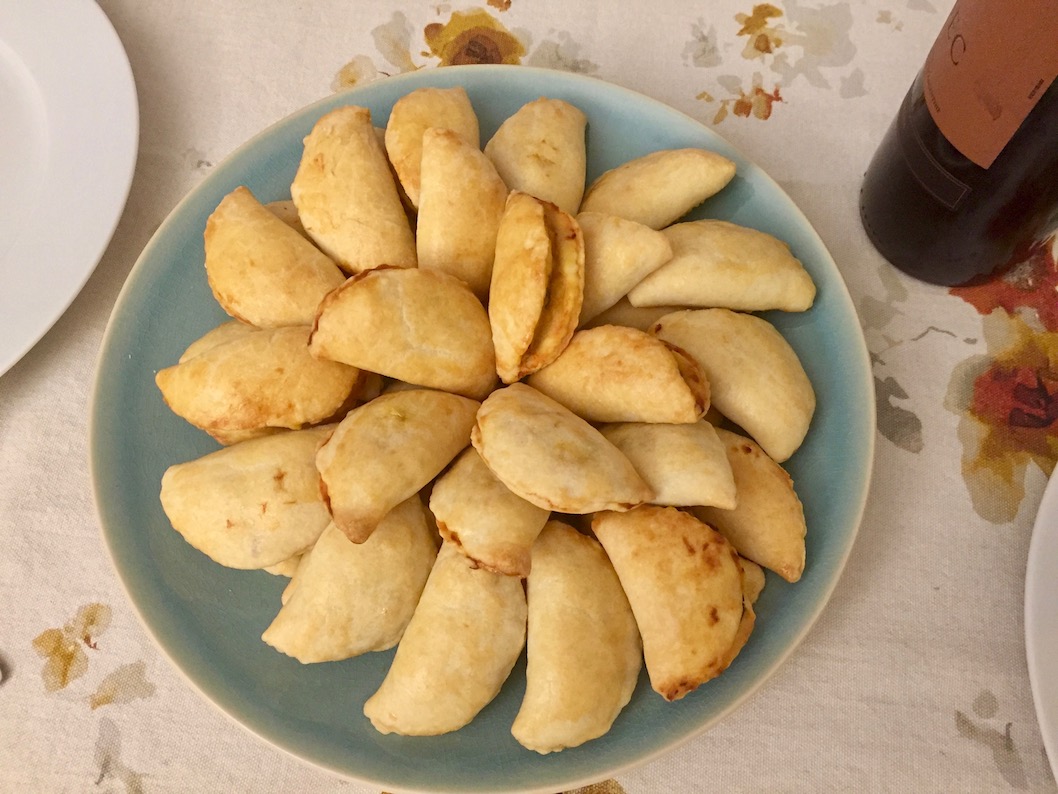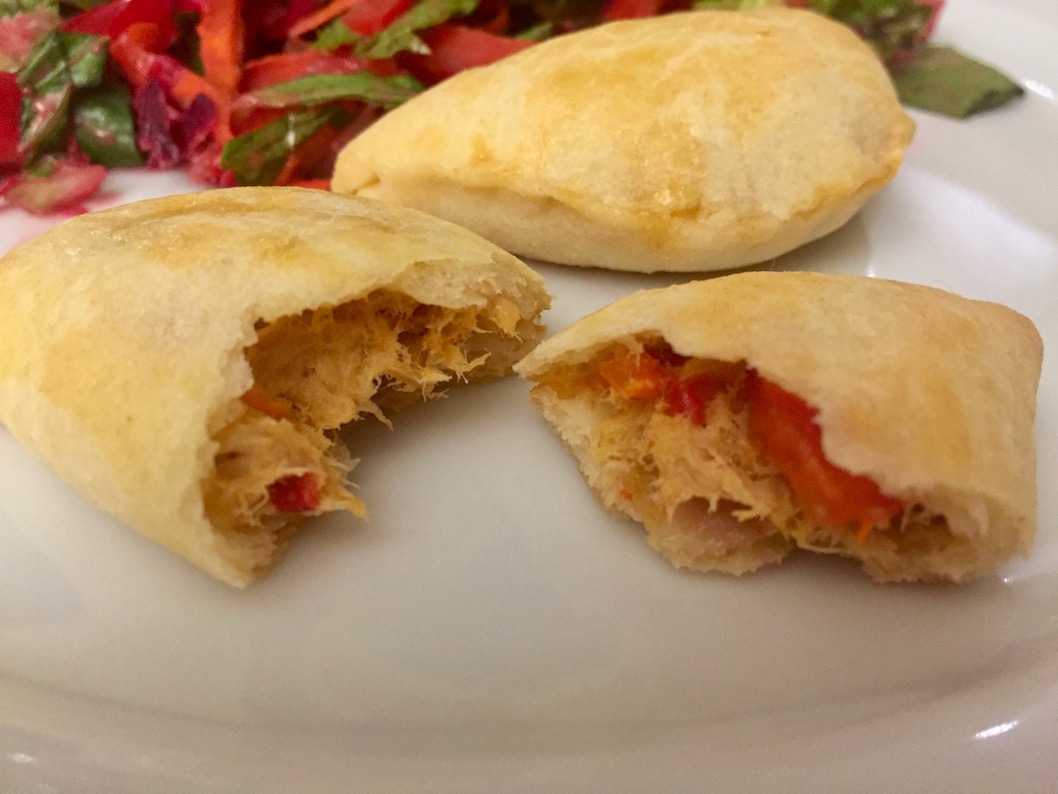 Tuna Pockets (Empanadas)
Ingredients
Dough
½ cup

(120ml)

oil

100g

(4oz)

shortening or lard

¾ cup

(180ml)

water

1

tsp

salt

3 ½ cups

(500g)

all-purpose flour
Tuna filling option 1
1

7oz

tuna in oil,

drained

1

small onion,

diced

1

roasted bell pepper,

diced

1

tsp

salt

4

tbsp

Romesco sauce

1

egg
Tuna filling option 2
1

7oz

tuna in oil,

drained

1

small onion,

diced

1

roasted bell pepper,

diced

2

heaping tbsps

olive muffaletta

(I found mine at Costco)

¼

cup

heavy cream

1

egg
Instructions
In a medium pot, bring the water to a boil over medium heat. Add the oil and shortening and stir until melted.

Place the flour in a mixer bowl with the hook attachment. Turn on the mixer on low and while the engine is running, add the hot liquid gradually. Knead only until the dough comes together. Over kneading will result in a hard and less flaky dough.

Wrap the dough in plastic wrap and keep in the fridge for 20 minutes. This allows the gluten to rest and will prevent the dough from shrinking when you roll it out.

In the meantime, make the filling. Place all the filling ingredients in a bowl and mix well to combine.

Remove the dough from the fridge and roll out on parchment paper to ¼ inch thick circle. You don't need to flour the paper. The dough is oily and doesn't stick to the paper. Using a cookie cutter or the rim of a cup, cut 8cm diameter circles.

Place 1 teaspoon of the filling in the middle of each circle and fold it in half. Pinch the edges together to seal and using your fingertips create decorative dimples along the edge. Alternatively, press the edge using a fork.

Arrange the dough pockets on a baking sheet lined with parchment paper and bake in the preheated oven for 30 minutes, until dough turns lightly golden.