Bulgur is a delicious and nutritious grain. It is basically cracked wheat and you can find it in Middle eastern stores in two sizes, coarse and fine. The coarse bulgur has a nice bite to it. It is used in tabbouleh, salads, and side dishes. I call it couscous because it reminds me of couscous in its look, although it doesn't taste at all like couscous. The fine bulgur is used for kibbes, stuffing, and porridge-like dishes.
This recipe is a very basic method to cook bulgur. Usually you don't even need to cook it. Soaking it in hot water for half an hour gets it ready to be used in tabbouleh, for example. The added cooking process is only to let the bulgur soak in the flavors we want to add to it. Since it is already soaked in water, there is no need to add much water during cooking time. ¼ cup water for two cups of soaked bulgur is all it takes.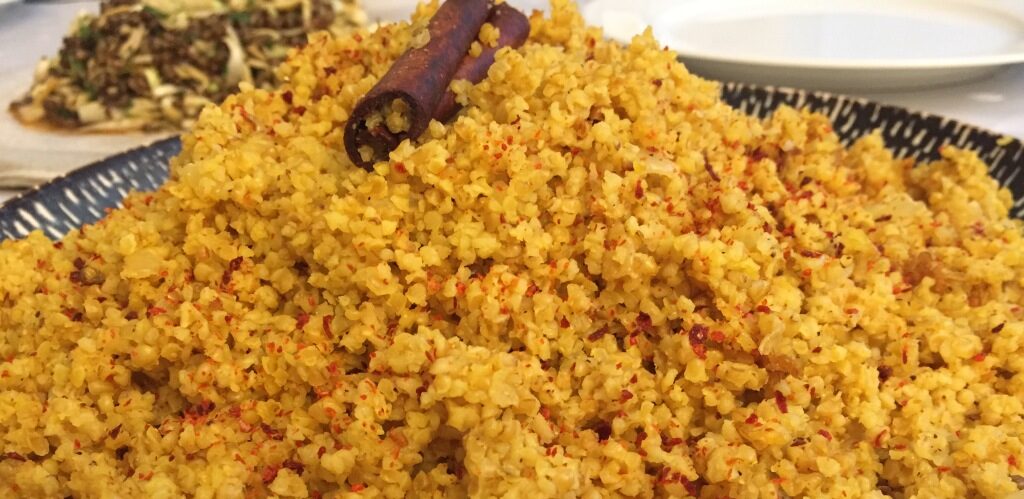 Bulgur Couscous
Ingredients
2

cups

coarse bulgur

1

medium onion

diced

4

cloves

garlic

minced

1

cinnamon stick

2

tbsp

coriander seeds

1

tbsp

Aleppo pepper

1/2

tsp

turmeric

salt

black pepper

1/4

cup

water
Instructions
Place the bulgur in a medium size bowl and cover with warm water, about 3 inches above the bulgur. Soak for half an hour. Drain the bulgur and discard of the remaining water.

In a large saucepan, sauté the onion until golden. Add the garlic and sauté for one more minute.

Add the drained bulgur and sauté for 2 minutes.

Add the spices and ¼ cup of water. Stir well, cover the pot, reduce the heat to low and cook for 10 minutes.