Throwing food is something I try to avoid as much as possible. Almost everything we buy gets eaten or used this way or another. In this case, I'm referring to watermelon rind. Did you ever think it was edible? I didn't think about it until a few months ago when a friend brought me some mysterious preserves she made. I couldn't figure out what she could possibly had used to make the preserves. I was very surprised when she finally revealed her "secret" ingredient – watermelon rind. I enjoyed it, but when it was gone, I moved on with my life and completely forgot about it.
Yesterday, I brought home a watermelon. My husband cut it and placed the wedges in a special container, and we were left with a big amount of the rind. Just before we were about to dump it in the compost bin, my son reminded us of those preserves we all enjoyed, which gave me an idea. Try and make a savory dish using the rind as the main ingredient. I decided to go completely untraditional and use unconventional combinations of ingredients and flavors, and got some inspiration from a post I found in the blog Sumptuous Spoonfuls.
I think my creation came out pretty good…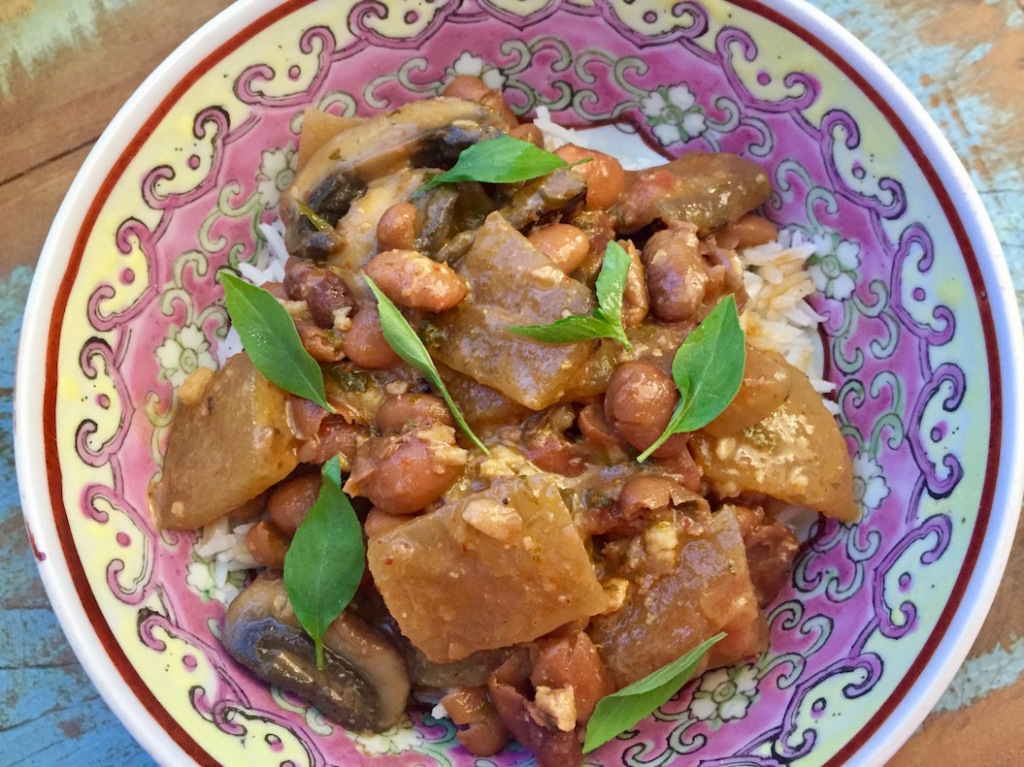 Watermelon Rind and Bean Curry
Ingredients
Sauce:
2

tbs

minced fresh ginger

4

large cloves garlic, minced

Juice from 1 medium lime

2

tbs

palm sugar (or light brown sugar)

2

tbs

peanut butter

2

tbs

rice vinegar

2

tbs

soy sauce

5

tbs

Thai masaman curry paste

1

15oz

can coconut milk

4

tbs

chopped cilantro

2

tbs

Thai fish sauce (optional)
5-6

cups

watermelon rind, peeled and cubed

3

tbs

oil

3

cups

cooked beans (I used pinto beans)

8

medium baby Bella mushrooms, sliced into thick slices
Instructions
In a medium bowl, combine all the sauce ingredients and mix well. Set aside.

In a large saucepan, heat the oil and add the watermelon cubes. Sauté for 6-7 minutes over high heat, stirring the watermelon occasionally. The watermelon should be lightly seared and wilted.

Add the sliced mushrooms, the beans and the sauce. Lower the heat to medium-low and cook for 10 more minutes.