This recipe may look like Matzah ball soup, but it is actually a Jewish Persian dish, very popular among Persian Jews.  It is made of ground chicken and chickpeas.
Gondi, is perhaps the single most unique food to the Jews of Iran. While Persian Jews have over the centuries adopted the Persian cuisine in their kitchen (kosher style, of course), Gondi has been one of their few culinary innovations that they can claim as their own.
It is usually served as an appetizer together with Sabzi – raw green vegetables including tarragon, basil, mint, and radishes. In our home, we used to eat it as a main dish.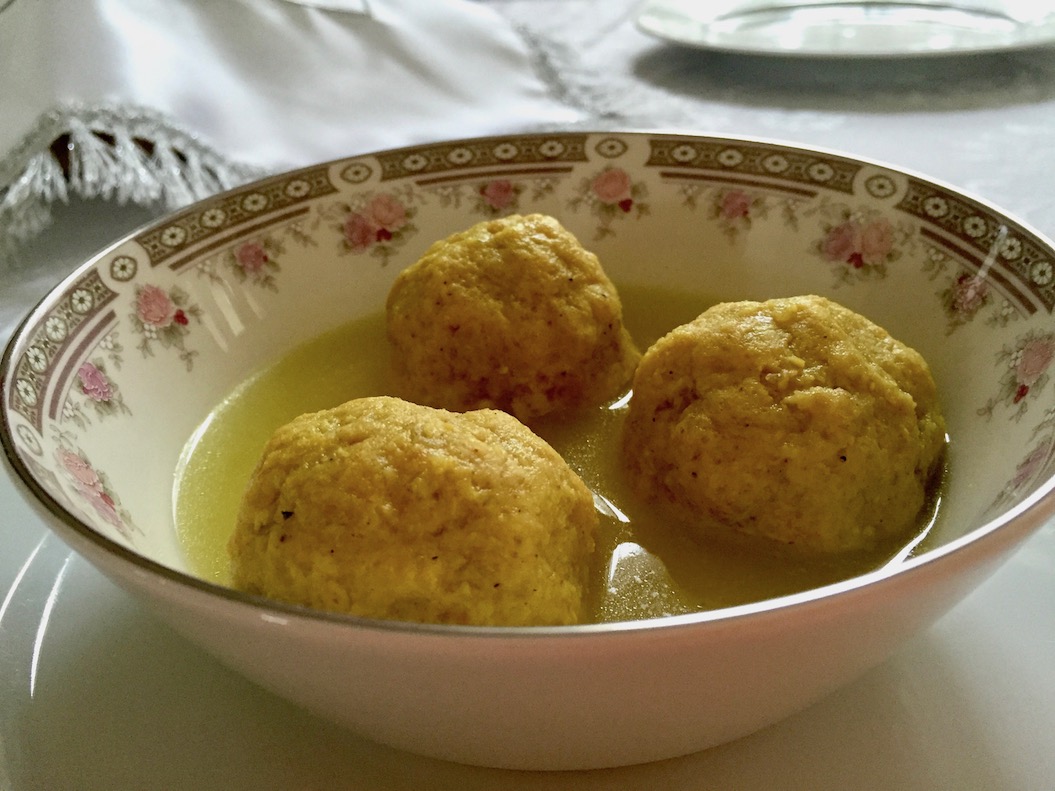 Gondi Nochodi
Ingredients
5-6

oz

roasted chickpea (found in Middle Eastern grocery stores)

1

lb

ground chicken breast

2

large onions, shredded

1

tsp

ground turmeric

1

tsp

ground cardamom

1

tsp

salt

1/2

tsp

ground cumin

1/2

tsp

black pepper

1/4

cup 

canola oil or rendered chicken fat

4

tsp

rose water (found in Middle Eastern grocery stores)

Homemade chicken soup (recipe follows) or 8 cups of good chicken stock

salt and pepper to taste
Instructions
In a food processor, grind the roasted chickpeas only until they turn into crumbs. Be careful not to over grind it. You don't want chickpea flour. You may find chickpea already coarsely ground in Middle Eastern grocery stores. Do not buy chickpea flour. It is too powdery.

Place the chickpea crumbs in a large bowl. Add all other ingredients except for the chicken soup, and mix well by hand, until mixture is well combined.

In a large saucepan, bring the chicken soup to a boil. If needed, add salt and pepper.

Make plum size balls of the chickpea mixture, and add them gently, one by one, to the soup. If the balls stick to your hands, use a small bowl with water to wet your hands lightly.

Lower the heat to medium and cook for about 30 minutes.

Place 1-2 balls in a soup bowl, add some soup and serve.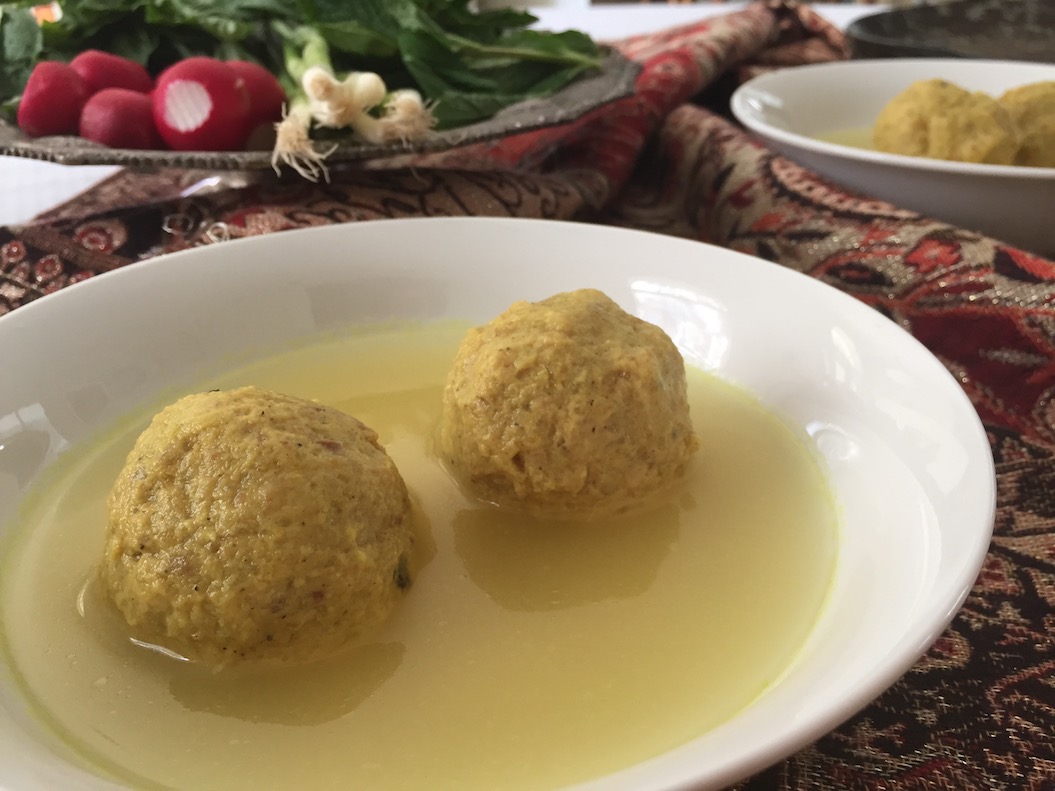 Chicken soup
Ingredients
2

lb

chicken bones (necks, backs) or other parts

8

cups

water

1

large onion, quartered

1

small bunch cilantro

4

carrots, peeled and sliced into ¼ inch rings

1

tsp

salt

1/2

tsp

pepper

1

tsp

turmeric

2

tbs

chicken soup powder
Instructions
Place the chicken in a large saucepan. Cover with 8 cups of water and bring to a boil. Using a large spoon, clean all the foam formed on the water.

Lower the heat to medium and add the onion, carrots, cilantro, and spices and cook for about an hour, covered.

Discard of the cilantro. You may use the soup as is to cook the Gondi dumplings in, or you may strain it, and have a clear broth for the Gondi.

Gondi is served with a plate of fresh green herbs such as basil, tarragon, mint, and sliced radishes.