Textured soy protein (TSP) is a by-product obtained from extracting soybean oil. The pulp is separated from the oil and is extruded in the form of dehydrated chunks of fiber with a spongy texture that slightly resembles meat texture. TSP is made of soybeans but it may also contain wheat and gluten. It contains 50% protein in its dry form, and 16% protein after rehydrated, and is therefore considered a great substitute for meat.
Textured soy protein can be found in the shape of nuggets, flat strips, or flakes. Its flavor is pretty bland. Given that its texture is dry and spongy, it can absorb a lot of liquid and take on the flavors added to it, so it can imitate beef, chicken, pork, fish, or any other flavor you wish to add to it.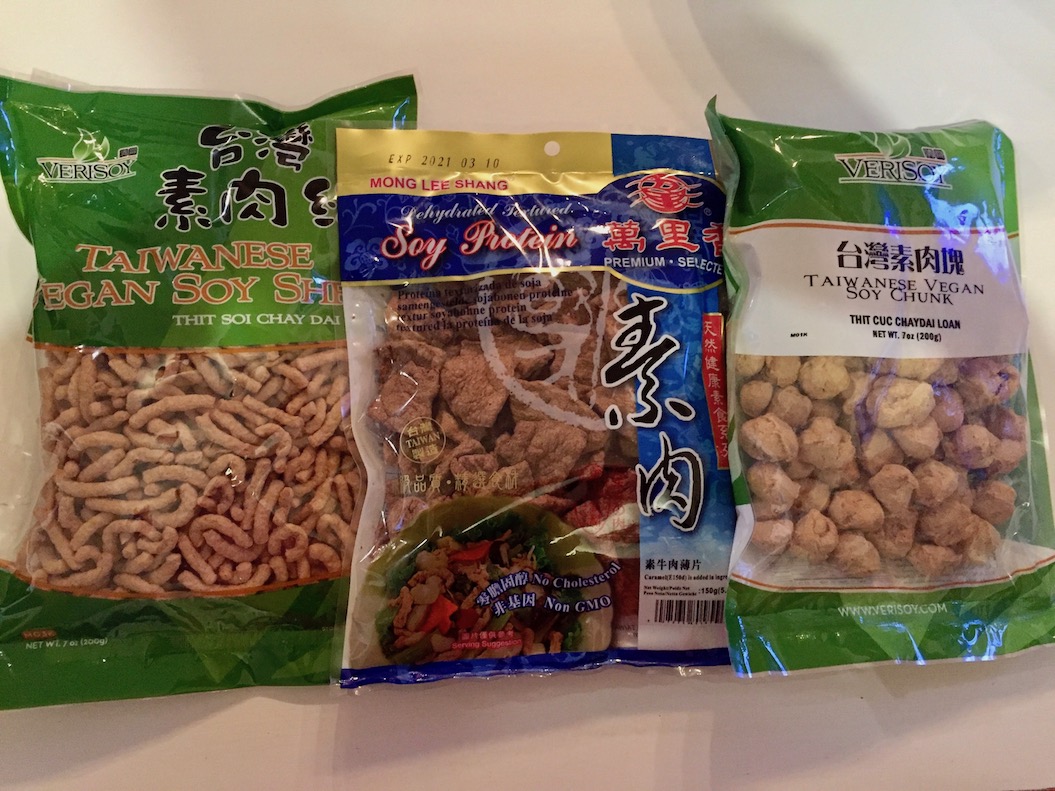 The recipe below is a pretty successful attempt to substitute soy nuggets for beef. My traditional recipe for beef croquettes calls for ground beef, but since we have become vegan in my family, I decided to recreate the recipe with non-animal products. Soy nuggets seemed like the best way to go.  They can be found in Asian and Indian grocery stores, and in health food stores.
To prepare it for use, TSP should be rehydrated. It needs to be soaked in hot liquid (water, soup) for about 30 minutes, then drained, and all liquid should be squeezed out of it. Then it is ready to be used in a dish. For the following recipe, I soaked my soy nuggets in boiling water.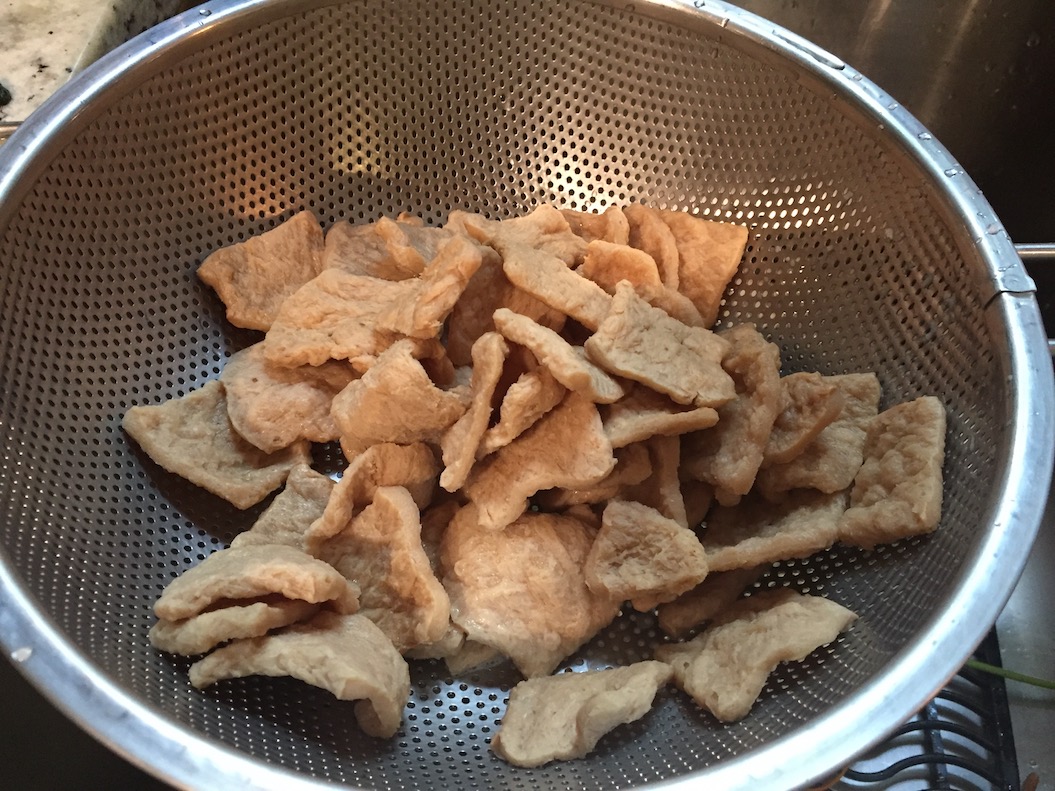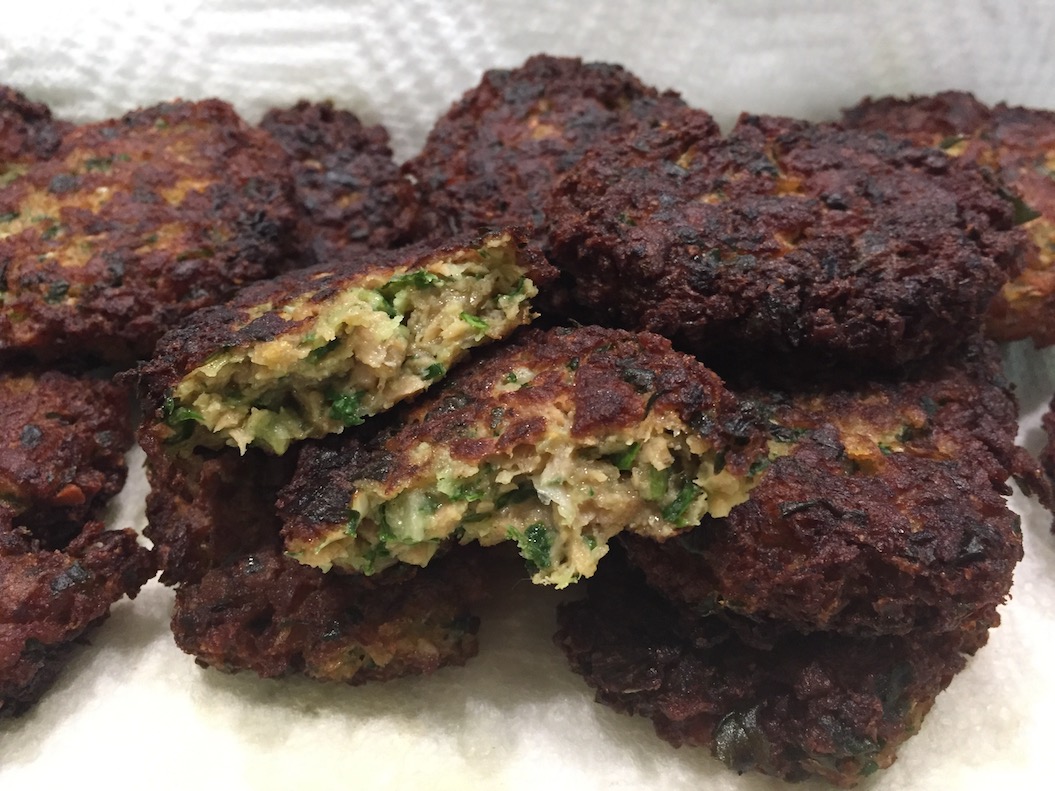 Soy Croquettes
Ingredients
2

cups

dry soy nuggets

2

tbs

ground flax seeds

8

tbs

water

1

cup

parsley leaves

1

medium onion, peeled and quartered

3

cloves garlic, peeled

4

tbs

all-purpose flour

2

tbs

chicken flavored soup powder

Salt and pepper

Oil for frying
Instructions
After soaking, draining and squeezing all liquid out of the soy nuggets, place them in a food processor and pulse to create crumbs resembling ground meat. Move to a large bowl.

In a small bowl mix the ground flax seeds with the water and let rest for a couple of minutes, until it becomes eggy in texture. Or, if you eat eggs, you may lightly beat 2 eggs.

Place the onion, garlic and parsley in the food processor and chop thinly.

Transfer to the bowl and add the flour, the spices, and the flax seeds (or the beaten eggs).

Using your hands, mix all the ingredients to a cohesive mixture.

Form croquettes the size of a ping pong ball and flatten them a little.

Heat oil in a large skillet and fry the croquettes for 3-4 minutes on each side, until golden brown.
I tried adding the fried croquettes to a Persian stew that I made (something I used to do with beef croquettes). The stew came out delicious, but the croquettes fell apart. So I think it's better to just eat them fried with some other things on the side.
Enjoy!